Welcome to CompuTown Edinburgh review of the Huawei P20, Huawei P20 Pro and P20 Lite.
Despite Samsung's dominance in the Android world, it's Huawei that is making up ground faster than OnePlus, LG or Sony. Huawei has announced the P20 and P20 Pro at an event in Paris. With top of the line specs, superb design and genuinely innovative camera set ups (particularly on the triple lens Pro), the P20 and P20 Pro are pushing the envelope in terms of Android hardware.
The expected P20 Lite was not mentioned at the event but it does exist. Here's all you want to know about the Huawei P20 range.
Here's a breakdown of the specs for each device:
Huawei P20
• Kirin 970 octa-core processor
• 5.84in Full-HD+ (2244×1080) 'notch' screen
• 4GB RAM
• 128GB storage + microSD
• Leica 12Mp + 20Mp dual-camera
• Front fingerprint scanner
• 3400mAh battery
• USB-C
• IP53 waterproof
• Android 8.0 Oreo
Huawei P20 Pro
• Kirin 970 octa-core processor
• 6.1in Full-HD+ (2240×1080) 'notch' screen
• 6GB RAM
• 128GB storage + microSD
• Leica 40Mp + 20Mp + 8Mp triple-camera
• Front fingerprint scanner
• 4000mAh battery
• USB-C
• Android 8.0 Oreo
Huawei P20 Lite
• Kirin 659 octa-core processor
• 5.84in Full-HD+ (2280×1080) 'notch' screen
• 4GB RAM
• 64GB storage
• 16Mp + 2Mp dual-camera
• 16Mp selfie camera
• Rear fingerprint scanner
• 3.5mm headphone jack
• 2900mAh battery
• Micro-USB 2.0
• Android 8.0 Oreo
• 148.6×71.2×7.4mm
• 145g
The P20 comes in black, champagne gold, twilight, pink gold and midnight blue while the P20 pro is available in black, midnight blue, pink gold and twilight. The pink gold and twilight colours are particularly striking, with chromatic gradient colours that shift in different lights.
The screen on the P20 is a 5.84in 2244×1080 18.7:9 LCD display while the Pro is a larger 6.1in OLED with 2240×1080 resolution. Huawei labels both as 'full view' displays.
The P20 and P20 Pro lack a headphone jack, though Huawei supplies USB-C headphones and a 3.5mm headphone jack adapter in the boxes.
There is an option in the display settings to hide the notch by introducing a black strip at the top of the screen. Clearly Huawei knows not everyone is going to love the design, so it's a clever way to keep people from moaning about a feature that is inevitably going to crop up on several flagship smartphones this year.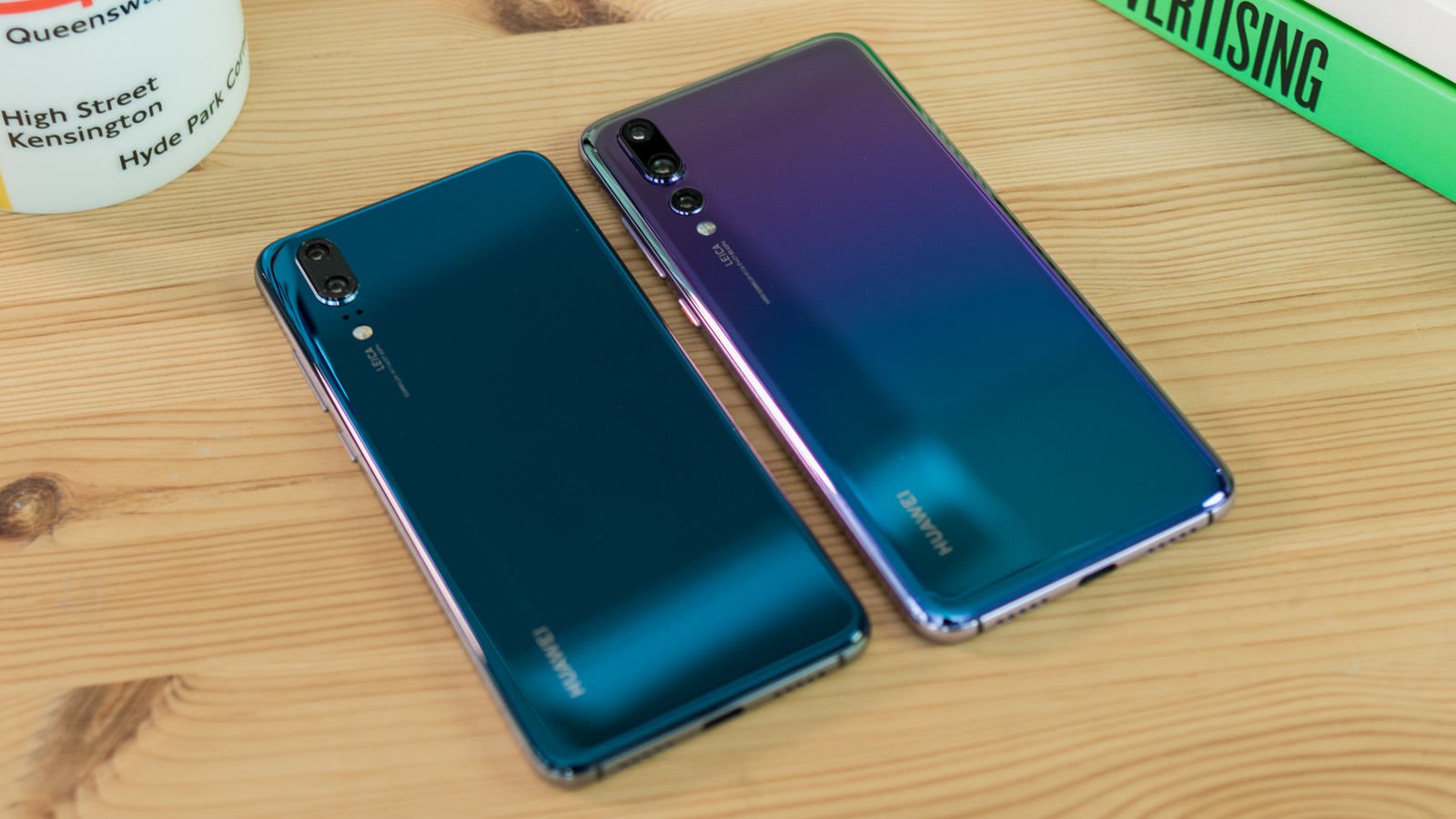 The P20 has a 12Mp colour and 20Mp monochrome sensor with f/1.8 and f/1.6 apertures respectively. The P20 Pro impresses further with a triple camera set up, with a 40Mp (yes, forty) colour, 20Mp monochrome and 8Mp telephoto lens.
It's worth noting only the 8Mp lens has OIS, meaning the other two sensors on the Pro, and both on the regular P20, only have AI-assisted stabilisation rather than physical stabilisation. Huawei claims the tech inside the phones, especially the P20 Pro, assists photography that lifts results above its competitors.
The Pro's 5x optical zoom is certainly impressive and a good differentiator. In sample shots though the P20 Pro can deliver some outstanding low light shots. In fact, the Pro has the highest ISO ever on a smartphone at an insane 102,400. For reference, the iPhone X's ISO is 5,400.
The Pro can take photos even if the light level is one lux. Suffice to say our full reviews of both devices will address these claims.
As with the Mate 10 Pro, Huawei makes some bold claims about artificial intelligence on the P20 and P20 Pro. As with all claims by smartphone manufacturers, this is not really AI – but the software smarts on the P20s are clever enough to take notice of, despite the shaky association with AI. The camera can intelligently select the correct shooting mode. You can also trigger Amazon searches on images UI-wide with a press of two fingers. Face unlock is also touted to be '100% faster' than on the iPhone X and Galaxy S9.
Both phones ship with EMUI 8.1 based on Android Oreo 8.1 out the box. It still looks an awful lot like the Android cousin of iOS, and is often a far cry design-wise from stock Android.
Despite saying the phones would be available immediately on a global scale, the P20 and P20 Pro went up for pre-order on 28 March ahead of a 5 April release date.
In the UK, the Huawei P20 costs £599 and the P20 Pro will set you back £799. The P20 Lite is £329. Those who order before 5 April will get a free pair of £329 Bose QC35 II noise cancelling headphones.
CompuTown Edinburgh provides repair services for Huawei phones and all other brands including Apple, Samsung, Nokia, OnePlus and HTC. If you have any questions do not hesitate to contact us at computown.co.uk.